The Vault – Grab & Go Menu
Dellwood CC's new, state-of-the-art simulator, named The Vault, provides full food & beverage service, with the exception of Monday's & Tuesday's during the winter season.
We do offer our Grab & Go Menu on these days, which can be ordered in advance (see below for cut-off times) and stocked in a refrigerator within The Vault!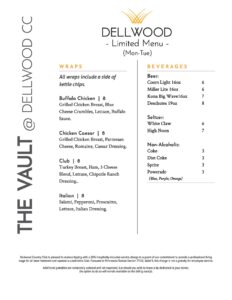 To view/share/print a PDF version of this menu, click here -> The Vault – Grab & Go Menu
For orders to be fulfilled, they must be received by 8am the day of your reservation, and emailed to michelle@dellwoodcountryclub.com.