A Premier Whiskey Tasting Event with Keeper's Heart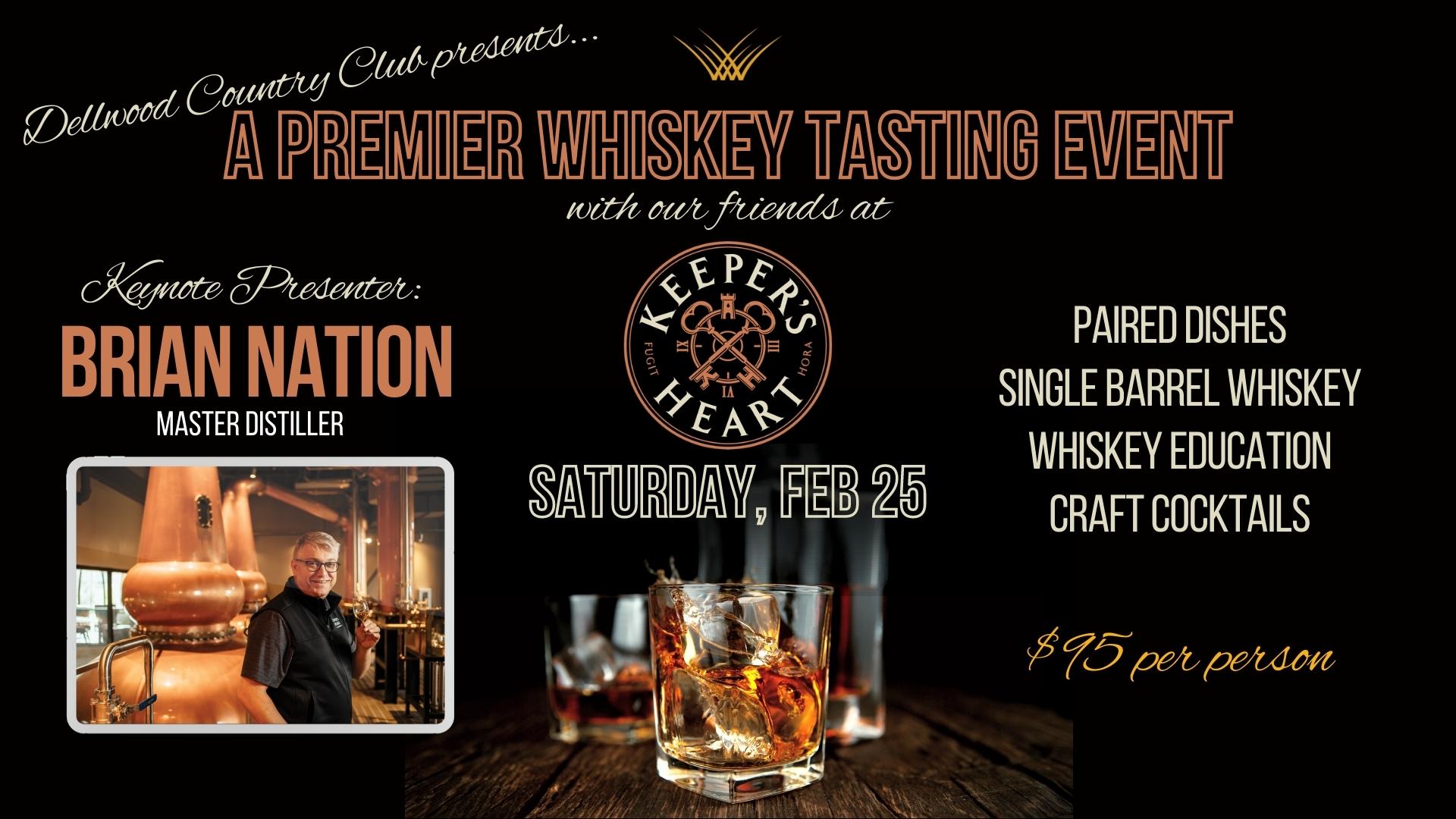 – – – – – –
Don't miss out on this rare opportunity to be guided through a whiskey tasting with a legend in the world of Irish Whiskey, Brian Nation. His experience speaks for itself. For the last 7 years Brian was Master Distiller for some of the most renown and high quality Irish whiskeys in the world, including Jameson Irish Whiskey. Brian was captivated by the opportunity to bring his skills and family to America one year ago to explore new expressions in whiskey and to create the worlds first Irish American Whiskey with O'Shaughnessy Distiller, called Keeper's Heart.
In addition to the information and knowledge Brian will be sharing as this event's keynote presenter, those in attendance will have the opportunity to sample both released and rare single barrel whiskey's from Keeper's Heart, which will be masterfully paired with dishes from Chef Peter Christenson, Chef Michael Lopata and their culinary team at Dellwood Country Club. The evening will provide a unique social and interactive experience, including passed hors d'oeuvres and culinary action stations.
 – – – –
Hors d'oeuvres:
Crudite: Radish, carrot, scallion, olive, cornichon, green goddess

Pheasant: Bacon wrapped & Keeper's Heart Maple glazed, Gooseberry Relish

Irish Pizza: Garlic cream, fingerling potato, Dubliner cheese, black truffle, chive
Action Stations:
French Onion Soup: Irish cheddar, Keeper's Heart Single Barrel Maple Whiskey, soda bread crouton

Salad: Apple, frisee, candied pecans, St. Pete's blue cheese, curry vinaigrette

Corned Beef: Shaved brussels sprouts, smashed potatoes, rye potato buns

Pad Thai

Colcannon: Irish pork sausage, braised kale
Dessert:
Chocolate Mousse

Bread Pudding: Sticky toffee, brioche, vanilla creme anglaise

Bananas Foster: Caramelized bananas, Sebastian Joe's vanilla ice cream
 – – – –
Attendance is LIMITED, don't wait to sign up for this very exciting event at Dellwood Country Club!
Complete the registration below, must be 21 or older to attend.
 – – – – – –